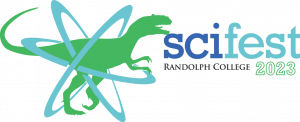 The Randolph College Society of Physics Students is proud to announce the annual Randolph College Science Festival (SciFest)! The event started as a science day for kids in 2005 and expanded to a full festival in 2009. Today, we are joined by science, humanities, and arts departments across campus as well as numerous presenters and outside vendors to create a weekend of activities for all.
If you would like to receive information and updates about the 2024 SciFest and future events, please email scifest@randolphcollege.edu with the subject line "mailing list." Or, stay updated by "Liking" the I Love Randolph Science Facebook page.
Please note that the following are public events, and sponsoring organizations or the public may be taking pictures or recording video footage. By participating in these events, you (or, for students and other children under 18, your parent or guardian) consent to the capture and/or use of your (or your child's) image and/or voice by Randolph College and waive any claims or rights, whether in law or in equity.
---
Thusday, March 14, 2024
Pi Run, presented by The Al Stroobants Foundation
6:00 pm | Main Hall (Front Campus)
---
Thursday, March 21, 2024 thru SciFest weekend
Chick Cam
---
Thursday, March 21, 2024
Keynote Speaker: TBA

6:45 reception – 7:30 p.m. event | Smith Hall Theater, Smith Building

Science Teacher Award
7:30 p.m. | Smith Hall Theater, Smith Building
---
Friday, March 22, 2024
Alumni Career Lunch
12:20-1:05 | Darden One, Cheatham Dining Area
Women in Science Panel Reception & Center for Student Research Open House
2:30 – 3:15 p.m. | Center for Student Research, Main 137 | Sponsored by BWXT

Women in Science Panel
3:30 – 4:30 p.m. | Nichols Theatre, Student Center

Poetry Jam Reading and Awards Ceremony
6 – 7:30 p.m. | Wimberly Recital Hall, Presser Building

A Scientist Goes to the Movies: TBA
7:30 – 10:00 p.m.| Location TBA

---
Saturday, March 23, 2024
Science Day for 3rd-6th Graders
11:45-4:00 | Athletic Center, Norfolk Avenue
Science Day for Little Scientists
12:00-1:00, 1:00-2:00, 2:00-3:00, 3:00-4:00 | Nursery School, Randolph Campus
Glow Stick Star Party
8:30-10:00 pm | Winfree Observatory
---
Sunday, March 24, 2024
Maker Faire of Lynchburg
with Hands-On Science Exhibitions
11:00 am -4:00 pm | Main Hall, Front Campus
Smash @ SciFest
11:00 am start | Martin RM 320
SciFest FIRST LEGO League Explore Build Challenge Expo
12:30 pm – 4:00 pm | Smith Building
Science + Art Saturdays Reception
2:00-2:30 pm | Martin Science Building, Room 415

---
---
2023 Sponsors and Friends
Thank you!