Join us for a 3.14 mile fun run/walk on Pi Day, March 14, at 6:00 pm at Main Hall on the Randolph campus. Pi Day represents the first three digits of Pi and is Einstein's birthday, as well! This is an in-person event, but we also have a virtual event for alumni of the College who are not local.
Please note that the following is a public event, and sponsoring organizations or the public may be taking pictures or recording video footage. By participating in this event, you (or, for students and other children under 18, your parent or guardian) consent to the capture and/or use of your (or your child's) image and/or voice by Randolph College and waive any claims or rights, whether in law or in equity.
Requirements
Registration will entitle participants who are present at the 3/14 event to your free t-shirt, race number, and a piece of pie!
Alumnae/alumni who are not local to the College are welcome to register for the virtual pi run (3.14 miles walked or run at your own location), and we will mail you a race packet!
Cost
This event is free!
Registration
Limited to the first 300, please register at https://www.simpletix.com/e/pi-run-randolph-college-scifest-tickets-119088 starting on January 15, 2024.
Route
The in-person course is GPS measured and runs from Main Hall, front campus, heads left on Rivermont Avenue, stay on sidewalk left to Norfolk Avenue, and then left again to the Randolph College track, does a U-Turn and heads back up past front campus and along Rivermont all the way to VES Road. Turn around at the stop sign at the top of VES. Trace your way back to front campus, and finish in front of Main Hall. This is a fun run and traffic will not be stopped. You must stay on sidewalks the whole way and give way to traffic at intersections.
See interactive route on MapMyRun: https://www.mapmyrun.com/routes/view/4088576422
These are maps of the in-person (done on Pi Day) and virtual (route in the video) Pi Runs. For interactive maps, please see them at the MapMyRun links below. 
https://www.mapmyrun.com/routes/view/4088576422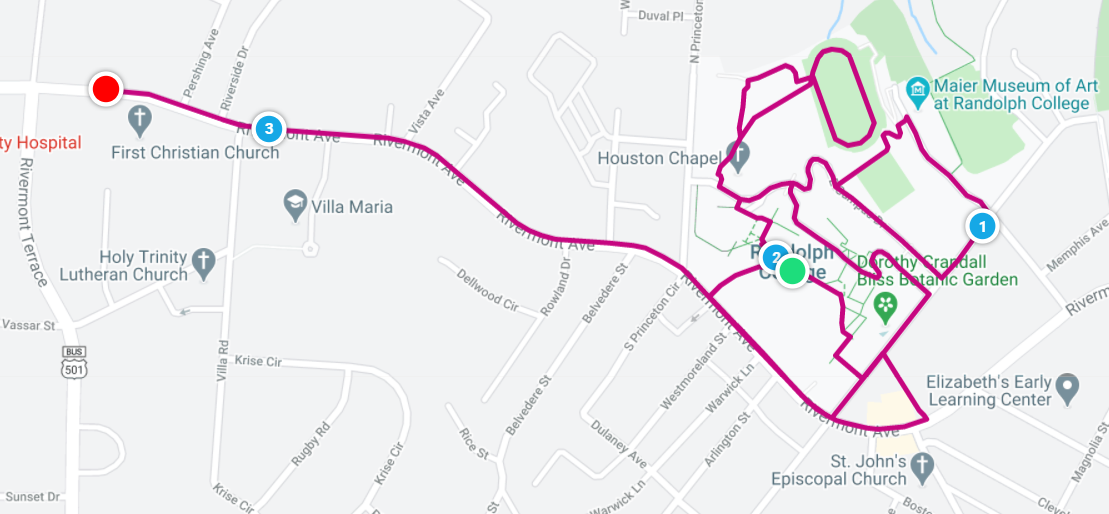 https://www.mapmyrun.com/routes/view/4088541016