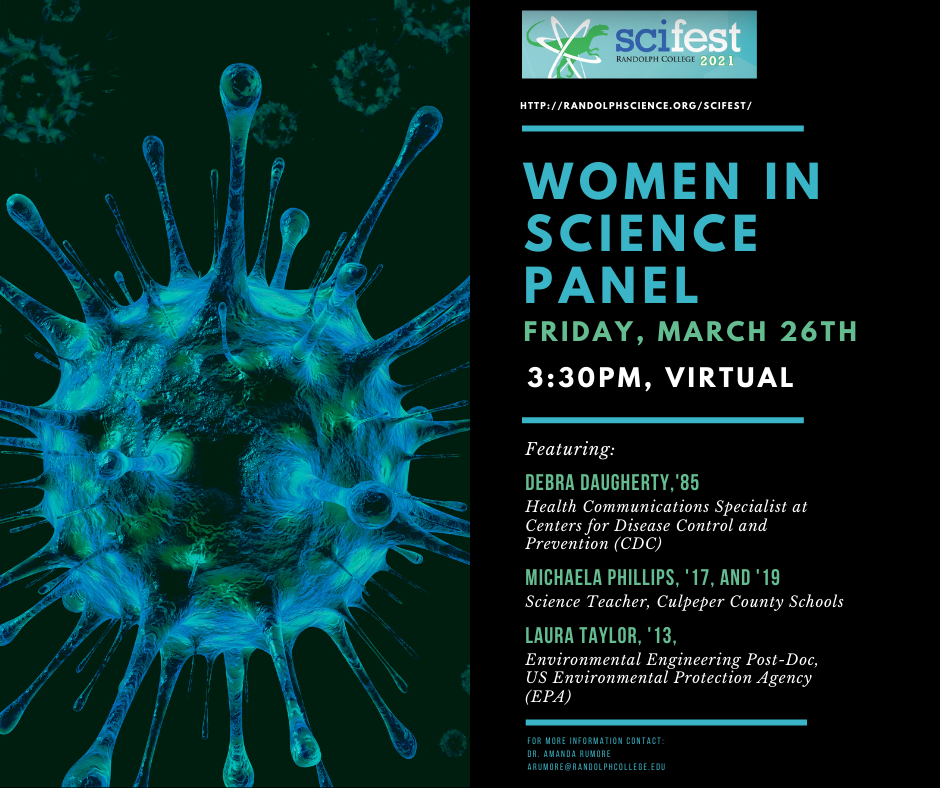 2021 Panelists:
Debra Daugherty '85 Health Communication Specialist for the Centers for Disease Control (CDC)
Education:
B.A. Communication Studies, Randolph-Macon Woman's College, 1985
M.S. in Communication for Development, University of Texas
Biography:
Debra Daugherty is a Health Communication Specialist for the Centers for Disease Control (CDC) based in Atlanta.  In this role, she translates complex science into plain language with clear context during the COVID-19 pandemic.  Previously, Ms. Daugherty worked as an anchor and assignment editor for CNN.  Following 15-year tenure in the newsroom, she supported leading brands in public health including the WHO,  American Cancer Society, Stop TB Partnership, and the International Union Against Cancer. Ms. Daugherty also developed and disseminated messages for public health partners including Johnson & Johnson, Eli Lilly, Merck, and Otsuka Novel Products. With Randolph College students, she will share steps to translating complex science such as the COVID-19 pandemic into plain language.
Michaela Phillips ('17), Science Teacher, Culpeper County High School, Culpeper County Public Schools
Education:
B.S. Biology, minor in Environmental Studies, Randolph College, 2017
M.A.T., Randolph College, 2019
Biography:
Michaela has been teaching high school science for four years. She began her teaching career at the Empowerment Academy, an alternative program within Lynchburg City Schools, but recently moved to Fredericksburg, VA, and now teaches at Culpeper County High School. She has taught biology, anatomy, ecology, earth science, and environmental science. During her time at Randolph College, Michaela was an active member of the Natural History and Archaeology Collections Project, a lab assistant, a tutor, and a research supervisor for the environmental science department. Michaela began Randolph's Master of Arts in Teaching (M.A.T.) program shortly after graduating with her Bachelor's degree in Biology. While completing her M.A.T. degree, she was honored with the Teacher Research Award from the Association of Teacher Educators in Virginia in March 2019 for her thesis project titled "Alternative High School Classroom: Hands-On Learning in Science." She recently presented this research at the American Association for Teaching & Curriculum conference in October of 2019.
Laura Taylor ('13), Environmental Engineer Post-Doc at the U.S. EPA
Education:
B.A. Chemistry, minors in biology and Chinese, magna cum laude, Randolph College, 2013
M.S. Toxicology, University of North Carolina at Chapel Hill, 2017
Ph.D. Environmental Sciences and Engineering, University of North Carolina at Chapel Hill, 2020
Biography:
Laura Taylor is an environmental engineer post-doc at the U.S. EPA. She is currently working on developing new computational tools for improving environmental risk assessments and regulatory decisions pertaining to chemical safety. She is also a mentor to undergraduates for the Step Up to Physical Science and Engineering at Randolph (SUPER) program and is on the board of directors for the Genetics and Environmental Mutagenesis Society (GEMS). She conducted her doctoral research at UNC-Chapel Hill and found that genetics and epigenetics impact health outcomes of occupational exposure to polyurethane paint and identified interventions to help protect workers more efficiently. While she was a student at Randolph College, Laura studied chemistry and biology and was an active member of the organic garden. One summer, she received a Virginia Foundation for Individual Colleges grant and a RISE grant (Randolph's Innovative Student Experience) to conduct self-driven research under the supervision of Dr. Houlihan on the impact of pasture-access on poultry health and egg quality. After undergrad, she worked for two industries and a small company as a laboratory technician before starting graduate school two years later. She has presented her research at scientific conferences in Canada, Finland, and Alabama, North Carolina, Rhode Island, and Virginia in the U.S. Laura can be contacted at laura.word.taylor@gmail.com