Dates
Open class with keynote speaker: held at DESI Thursday morning
Keynote speaker: March 23, 2023, 7:30 p.m., Smith Hall Theatre at Randolph College
Free, no tickets required.
---
2023 SciFest Keynote Speaker: Greg Kennedy, Innovative Juggler
The Keynote is always the highlight of SciFest weekend!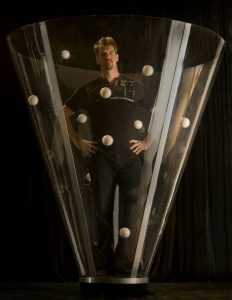 We are so excited to invite innovative juggler, Greg Kennedy, back to the Science Festival! Greg Kennedy is a professional performing artist and scientist – combining his love of juggling with his engineering background. Greg has toured with Cirque du Soleil, been featured on the Discovery Channel, received awards for his juggling technique, and is well known within the science and arts communities. We look forward to having him here!
Past Keynote Speakers
2022: Joe Hanson, "PBS's It's Okay To Be Smart"
2021: James Kakalios (virtual)
2019: Robert J. Lang, "From Flapping Birds to Space Telescopes: The Art and Science of Origami"
2018: Nicholas Perna," Science of the Voice"
2017: Greg Kennedy, Innovative Juggler
2016: Nicholas Giordano, "Physics of the Piano"
2015: Rebecca Thompson, American Physical Society, "Physics of Frozen"
2014: Leland Melvin, NASA astronaut
2013: Don Lincoln, Fermilab and Higgs Boson scientist
2012: Michael Shermer, Science writer
2011: Ken Laws, physics of dance expert, and Randolph College dancers
2010: Lisa Heinzerling, EPA associate administrator
2009: Dr. Pete Caprice, orthopedic surgeon