Dates and Deadlines
Registration: January 29 – March 1, 2021
Pi Run: March 14, 2021
We are currently planning a virtual event with an in-person contingency in case things change.
—
Join us for a virtual 3.14 mile fun run/walk with pie prizes on Pi Day, March 14, 2021. Pi Day represents the first three digits of Pi and is Einstein's birthday, as well!
If you pre-register, we will provide you (via mail or drive-by pickup) a t-shirt and a race number. We hope you will join us – virtually – on Pi Day to run or walk 3.14 miles. Anyone who emails us a picture of you/your family participating in your Pi Run t-shirts will be eligible for a random drawing for a special pie prize. We will award four prizes randomly, and one additional award for the best/most creative photo. Please submit photos electronically to scifest@randolphcollege.edu between March 14 and 21; if you submit a photo, you consent to it being used in social media without any name attribution. In addition, please come back in March for a special video of our virtual Pi Run course (you can run any course you like).
Please note that the following is a public event, and sponsoring organizations or the public may be taking pictures or recording video footage. By participating in this event, you (or, for students and other children under 18, your parent or guardian) consent to the capture and/or use of your (or your child's) image and/or voice by Randolph College and waive any claims or rights, whether in law or in equity.
Requirements
Registration will entitle you to your free t-shirt and race number and the opportunity to win prizes!
Cost
This event is free!
Registration
Official registration has closed, but if you would like to be on a waitlist for a t-shirt, please email scifest@randolphcollege.edu with the names and t-shirt sizes of your potential registrants. We will also be able to email you a printable race number.
Route
The in-person course is GPS measured and runs from Main Hall, front campus, heads left on Rivermont Avenue, stay on sidewalk left to Norfolk Avenue, and then left again to the Randolph College track, does a U-Turn and heads back up past front campus and along Rivermont all the way to VES Road. Turn around at the stop sign at the top of VES. Trace your way back to front campus, and finish in front of Main Hall. This is a fun run and traffic will not be stopped. You must stay on sidewalks the whole way and give way to traffic at intersections.
See interactive route on MapMyRun: https://www.mapmyrun.com/routes/view/4088576422
These are maps of the in-person and virtual Pi Runs (you can walk or run any 3.14 mile course you like). For interactive maps, please see them at the MapMyRun links below. 

https://www.mapmyrun.com/routes/view/4088576422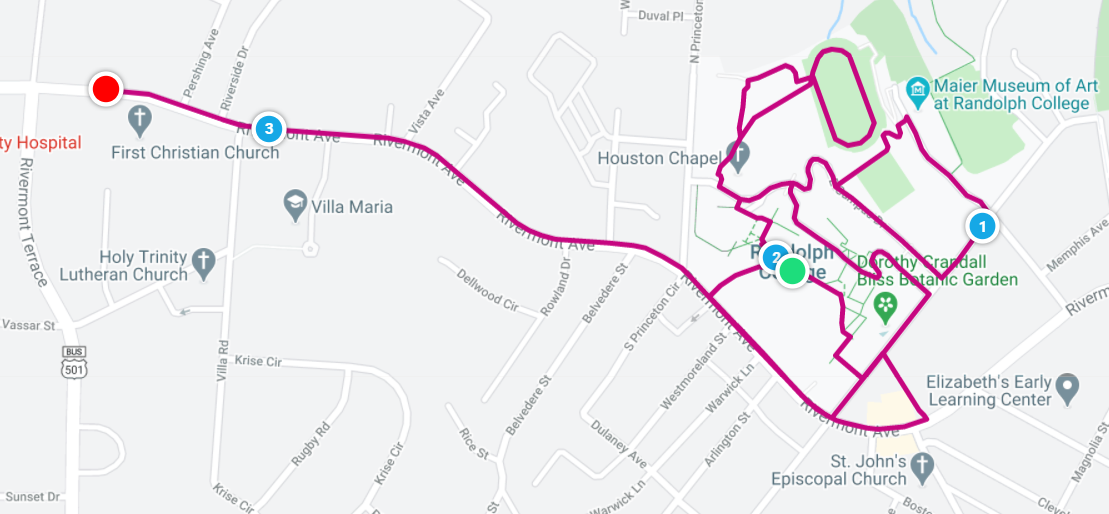 https://www.mapmyrun.com/routes/view/4088541016; video of this route will be shared here and directly with all registered runners